This post may contain affiliate links. Please read our disclosure policy.
Planning your meals during Ramadan can be a daunting task. But with a little bit of organization, a bunch of great ideas, and creativity, you can easily meal prep healthy and satisfying meals for both iftar and suhoor to help keep you satiated and energized throughout the holy month.
To help get you started, I've put together a list of meal planning ideas featuring 70 healthy Ramadan recipes for you to try. From tasty breakfast items to hearty main dishes, your options are vast. So whether you're looking for something new to add to your iftar menu or are just starting to plan out your suhoor meals, there is something for everyone in this roundup.
what is ramadan
Ramadan is the ninth month in the Islamic calendar. During this holy month, Muslims fast and abstain from food and water during sunlight hours. We do this every day for 30 days.
Fasting helps to cleanse the soul, teach self-discipline and empathy for those less fortunate, and encourage acts of generosity. There's so much more on this topic online. And I can provide more amazing resources if anyone's interested. I want to focus on the health aspects and Ramadan recipes today.
What are the health benefits of fasting?
There are amazing mental health benefits that come from this month-long ritual of sacrifice and self-discipline. Oftentimes people find they can think more clearly, they're more productive, and they have better concentration, which can lead to moments of clarity in specific areas of one's life that might be blocked during the rest of the year.
The physical benefits of fasting are numerous as well and are what I really want to focus on. When the body isn't constantly digesting food, it can go into a deep cleansing mode. This detoxifies the liver, kidneys, and other organs in the body. All of which helps improve our overall health and well-being. Here are some of the top physiological benefits of fasting:
Lose weight. By skipping lunch and not eating until the sunset, you will most likely consume less calories and less fat throughout the month. This may result in weight loss. I usually lose 5 pounds and keep it off for at least a few months.
Lower blood sugar. One of the immediate effects of fasting is lowered blood sugar. And that can also result in lower cholesterol and lower blood pressure. All that means better cardiovascular health!
Detoxify your body. Not eating or drinking during the day is a method of detoxing your body naturally. It gives your digestive system a chance to cleanse itself.
Reduce appetite. I'm always surprised by how little food I actually need to feel full when I break my fast. During the month, many people notice an appetite reduction. That's so important because it can help you restructure your relationship with food, and limit overindulgence.
Improve metabolism. By skipping meals during the day, your metabolism may become more efficient. We're giving our digestive system a break. That makes it more efficient. And that means it can better process the nutrients in the food we eat.
How do you stay healthy during Ramadan?
There are a few things you can do to stay healthy during Ramadan, which I will get to in just a second. But, the biggest thing you can do during the holy month is to make sure you're nourishing your body with healthy, high-quality foods. This means eating plenty of fruits, vegetables, lean protein, and healthy fats. 
Try not to let convenience and hunger rule you when choosing what to break your fast with at iftar. To prevent opting for unhealthy convenience food, I recommend meal prepping and planning ahead. Here are some other tips for staying healthy during Ramadan:
Wake up for 'Suhoor.' This is the meal eaten before dawn. It can help you get more nutrients in your body.
Have well-balanced meals. Make sure each of the two meals includes complex carbs, high fiber food, and protein-rich foods. These well-balanced meals will help you replenish your energy.
Drink plenty of fluids. You can also do this by eating water-dense fruits or soups. The goal is to consume the equivalent of 8 cups of water to avoid dehydration. I know it's hard, but try to limit the caffeine, which can stimulate water loss.
Cut down on processed foods and those with refined carbs such as sugar and white flour. They don't have many nutrients and will not give you the energy and nutrition your body is craving.
Break your fast with dates and water. An average serving of dates has 31 grams of carbs. That will give you the right amount of energy after a long day of fasting. They have high levels of fiber for digestion, and are packed with potassium, magnesium, and Vitamin B.
suhoor ramadan recipes
Suhoor is a great time to enjoy breakfast recipes and ones that will keep you feeling energized and full throughout the day. Because this meal happens so early, I recommend preparing as much as you can the night before, so it's ready to enjoy when you wake up without prep work. Four popular categories for suhoor are oatmeal, egg-based dishes, smoothies, and traditional Middle Eastern breakfasts.
oatmeal recipes
My favorite suhoor to prepare during the month is Overnight Oats because I can just grab a spoon in the morning and dig in without having to do any other preparations! You can enjoy them cold or warmed with endless topping possibilities.
For more easy oatmeal ideas for meal prep:
Egg-based recipes
If you're looking for something warm and savory and loaded with protein, try a quick breakfast of scrambled eggs. It takes a couple of minutes to cook, will fill you up for the day, and doesn't require any ingredients aside from olive oil (or butter), salt, and pepper.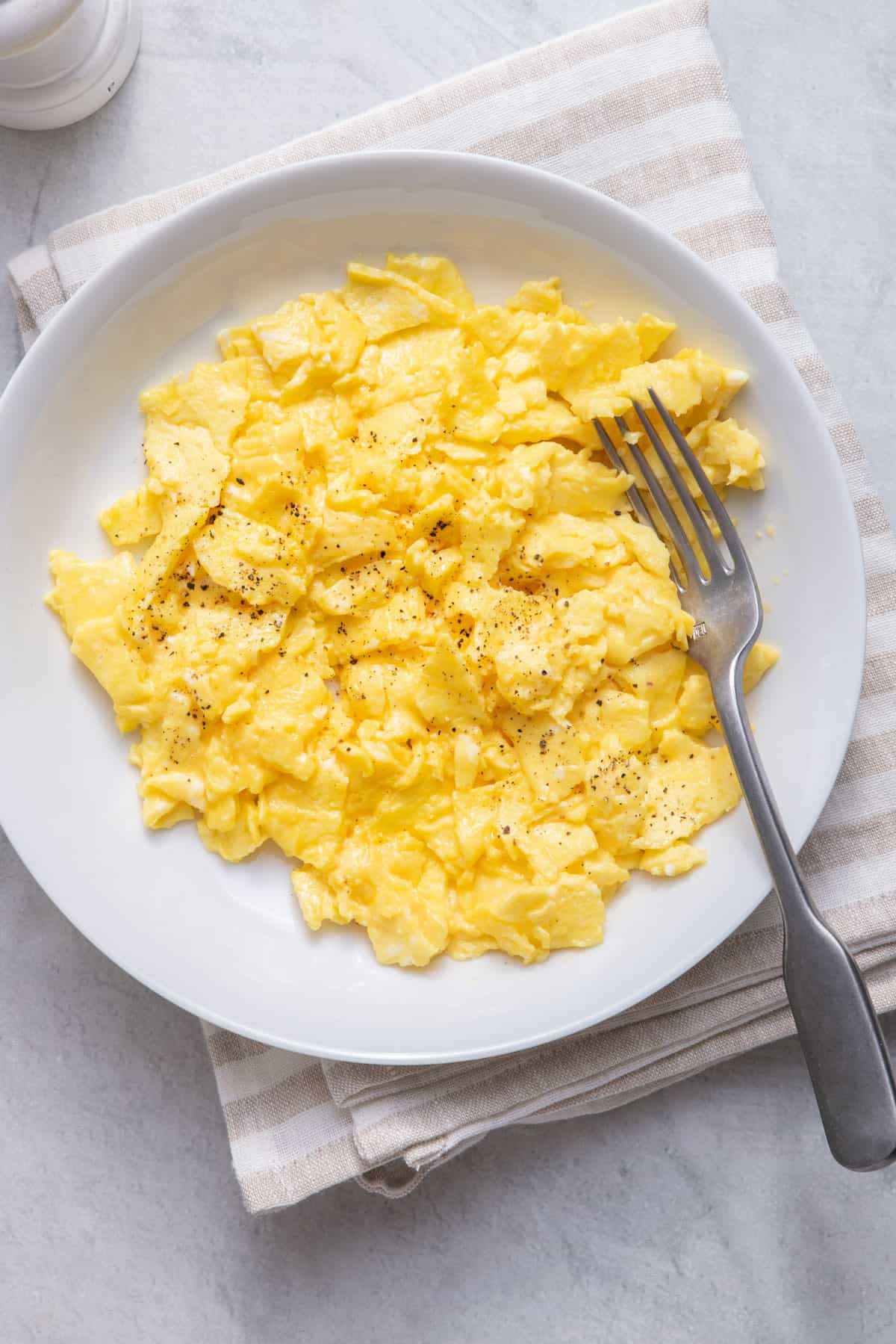 For more egg recipes for suhoor, try:
smoothie recipes
For a more liquid breakfast, you can switch it up with some easy smoothie recipes for breakfast. Keep some frozen bananas or other fruits in your freezer, so you don't need to use ice, and you can then whip up any of these smoothies in a couple of minutes. One of my favorites is this Date Shake.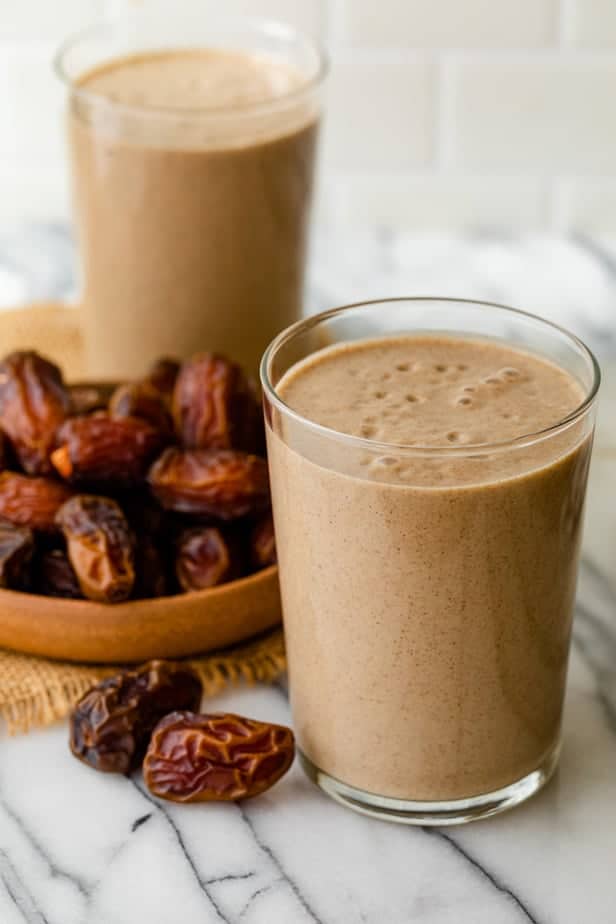 For more smoothie recipes, try:
traditional middle-eastern breakfast recipes
Finally, the most nostalgic Ramadan suhoor breakfast for me are always the Middle Eastern ones. These are more common on weekends with family as they require more prep. As with all other suhoor recipes though, a little prep the night before goes a long way. For example, since tomatoes and cucumbers, and other veggies are often served with these breakfast ideas, be sure to wash and chop the vegetables the night before. Zaatar Manakeesh is a staple Mediterranean flatbread that's made with dough and zaatar spice that is often served for suhoor.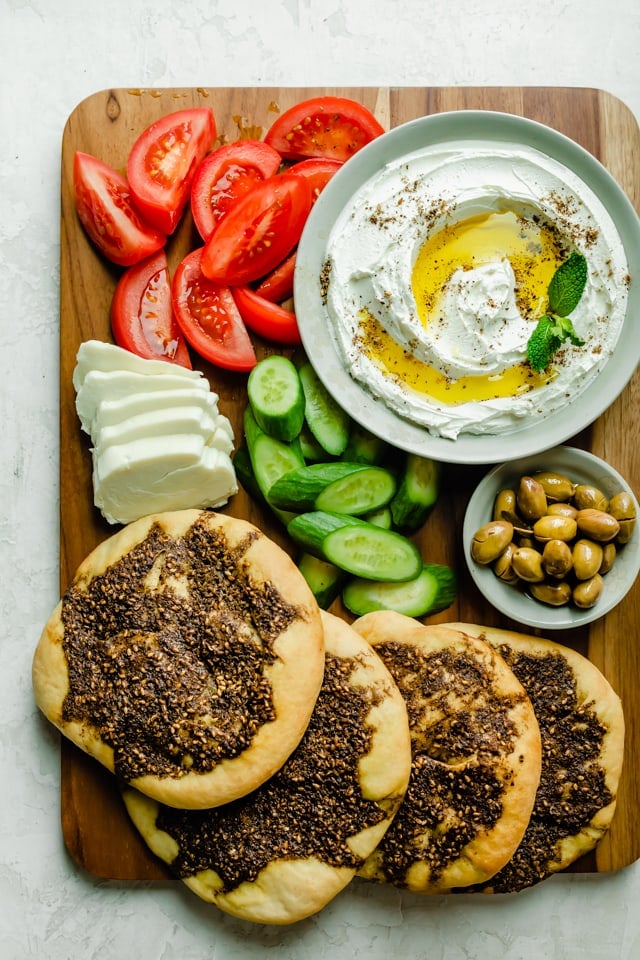 For more suhoor ideas, try:
iftar ramadan recipes
When it's time to break your fast, you can have your pick of so many different foods to eat. Below I share some traditional foods we typically eat during this month broken up into salads, soups, appetizers, main proteins, and finally traditional stews or one pot meals.
ramadan salads
One of my favorite Ramadan recipes is one that my mom literally makes every single day during the month. It's a Fattoush Salad that is made with simple, fresh vegetables and toasted pita bread, then tossed in a zesty sumac Mediterranean dressing! It's an authentic recipe I know you'll love!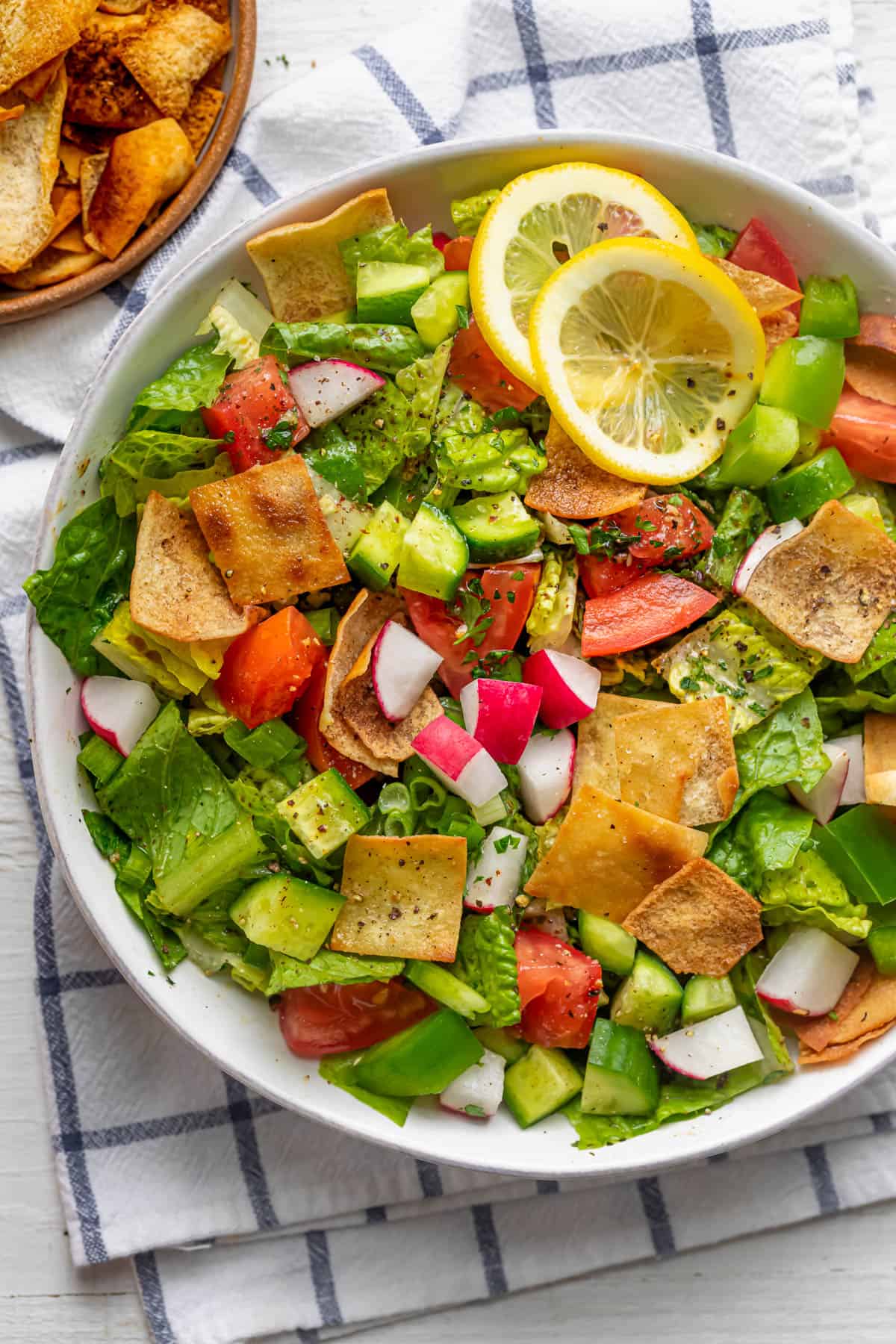 Another very popular salad is this traditional Lebanese Tabouli Salad. It's a fresh Mediterranean appetizer made with bulgur, parsley, mint, and very finely chopped vegetables. Because it doesn't include lettuce, you can make a large batch and enjoy for 2-3 days without the salad wilting.
For more salad ideas try these:
Ramadan soup recipes
The most popular soup recipe during Ramadan is this Crushed Lentil Soup. It is actually one of my all-time favorite soup recipes, and I love to make it all year long. It's made with red lentils, short-grain rice, onions, carrots, and cumin and topped with the tangy taste of freshly squeezed lemon juice – comforting, delicious and healthy!
Another popular soup during Ramadan is Chicken Noodle Soup with a Middle Eastern twist by using vermicelli pasta. It's a classic soup recipe that's easy to make with simple ingredients and stocked with nutrients for the cold season or the hungry fasting soul!
For more hearty, easy, and nourishing soups ideas, try:
RAMADAN appetizers
Stuffed grape leaves (warak arish) is a Mediterranean classic recipe made with short grain rice, parsley, tomatoes, and onions – my favorite appetizer and very popular to eat during Ramadan. This is the vegetarian version. But I've also shared the meat stuffed grape leaves recipe which is made with a spiced ground beef and rice mixture.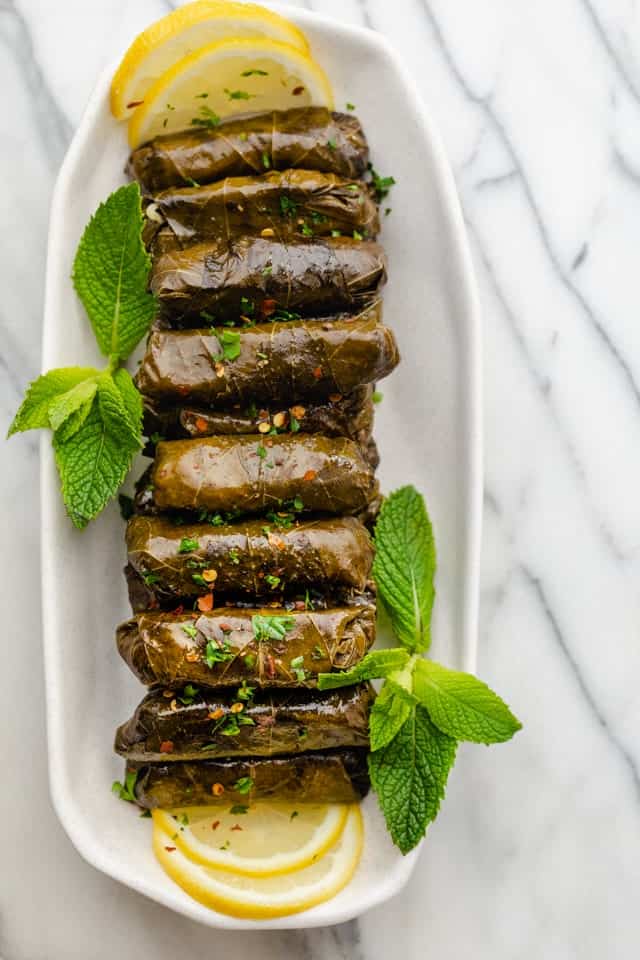 And you can never go wrong with hummus! It's always a great recipe to include during Ramadan meals. I feel confident to say this is the Best Hummus Recipe – it's simple and classic with the right balance of flavors. In this post, I share my 4 tips for making smooth, creamy, and ultra rich hummus. I also have Hummus with Ground Beef – which, when served with pita, is a meal on its own!
For more mezze and Ramadan finger food, try:
Main protein dishes for Ramadan
If you're looking for some protein-rich meals, try Chicken Kafta or Beef Kafta – both made with ground chicken or beef along with parsley, onions, and spices. Or you can try some Lamb Kabobs or Chicken Kabobs.
If you're looking for some handheld options that you can make with pita bread and veggies, be sure to try my popular Falafel, Chicken Shawarma, Beef Shawarma, or Shish Tawook recipes. You can pair them with either my Garlic Sauce or Tahini Sauce.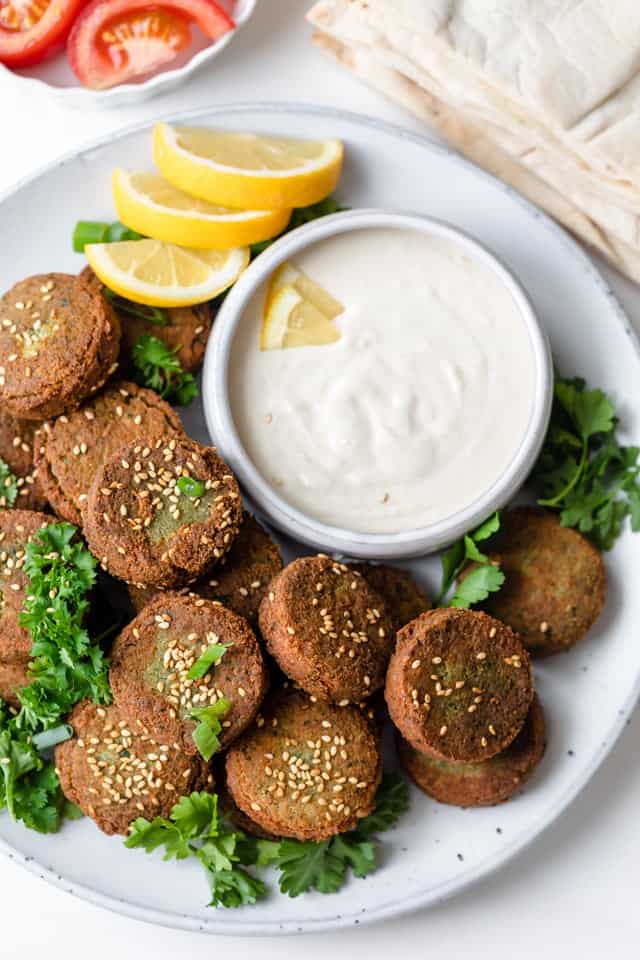 stews & one-pot ramadan meals
At least once a week during Ramadan, you'll find me and many others who are fasting during this month, preparing a type of stew dish like this popular Peas and Carrots Stew. They are generally tomato broth based stews that are made by sauteing garlic and cilantro with veggies, meat or chicken and then served over Lebanese Rice. I have many variations of this recipe below, so you can try something different each week!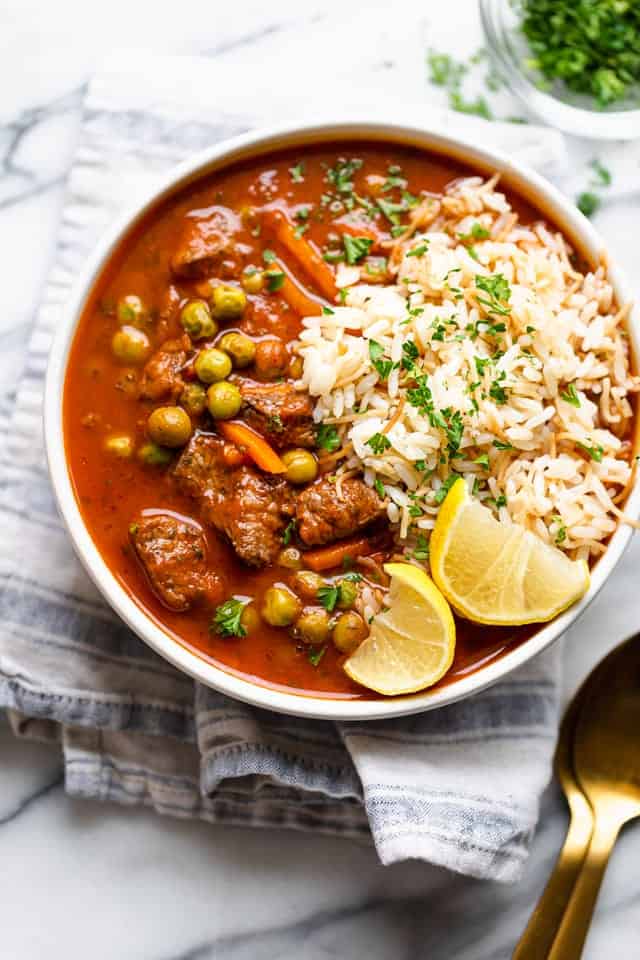 For more hearty traditional Arabic recipes, try:
Favorite Ramadan desserts
Going all day without eating makes you crave sweets so be sure to leave a little room for dessert. Try the Sfouf recipe – a Middle Eastern semolina turmeric cake, made with simple ingredients, no eggs, and no butter. It's vegan-friendly, light, and simply delightful! It's also very delightful to have with coffee after you've had dinner.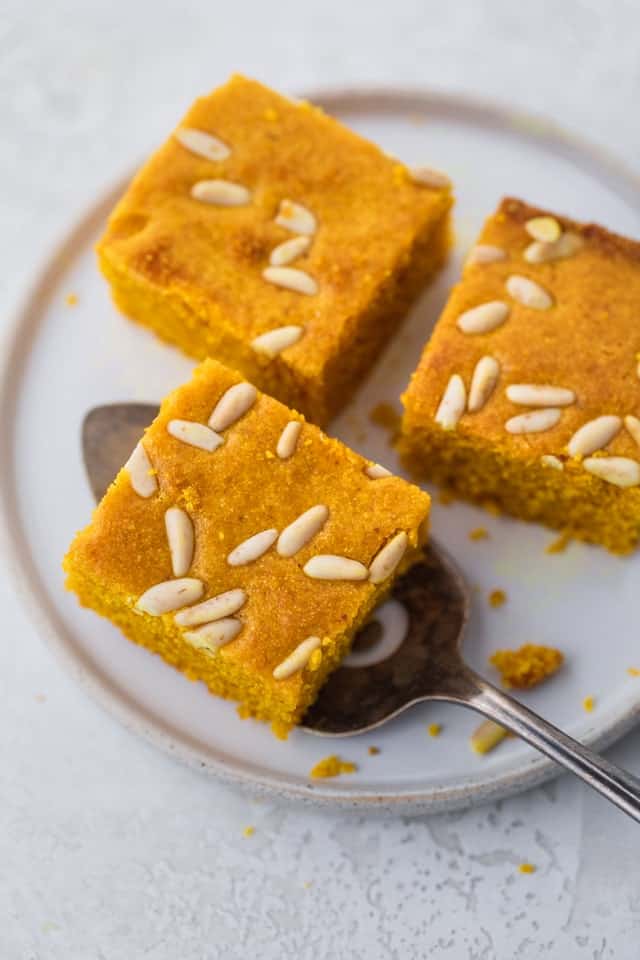 Another popular Middle Eastern dessert recipe during the month of Ramadan is Kanafa – layered shredded dough and mozzarella cheese soaked with syrup.
Other great treats and drinks to enjoy after breaking your fast include: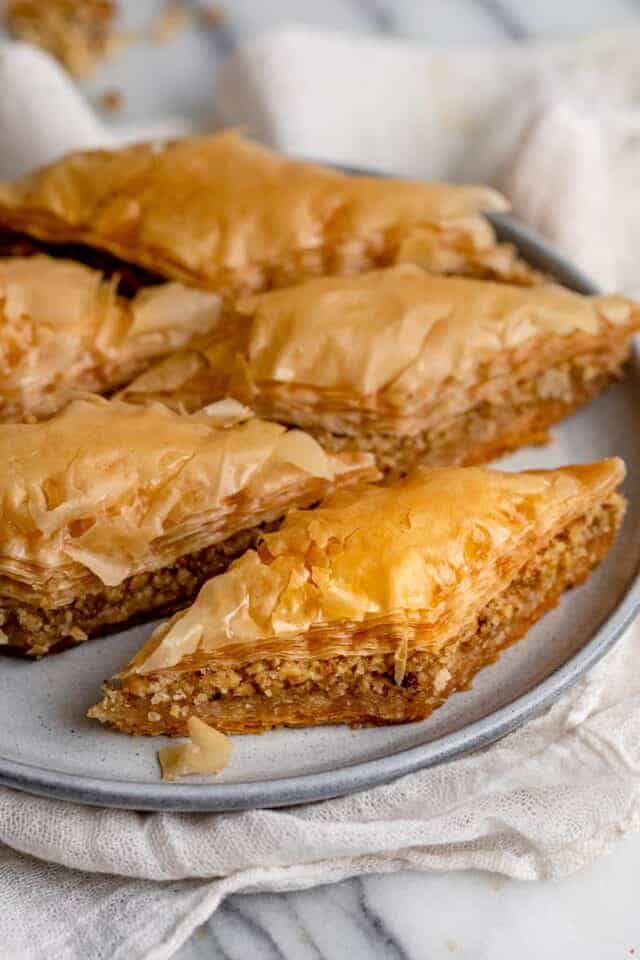 There are strong health benefits associated with fasting for Ramadan if done right. I hope this post gave you some insight into how to honor this month, stay energized, and cook some healthy Ramadan recipes this year.
Ramadan Mubarak, and I hope you enjoy these Ramadan recipes ?
What is the best food for iftar?
There is no one "best" food for iftar, as everyone's tastes and preferences vary. However, some good options include fruits, vegetables, lean protein, and healthy fats. My go-to recipes are peas and carrot stew, mujadara, beef kafta, and fattoush Salad.
Can you eat anything for iftar?
You can eat your normal diet for iftar, but it's important to make sure your meals are healthy and balanced. Try to avoid eating processed, convenience foods with little nutritional value. If you're craving sweets, opt for homemade desserts made with healthy ingredients. If you're craving salty, load up on hummus and pita chips. Things that are high in sugar and unhealthy fats should be consumed in moderation.
What should I eat for suhoor?
Suhoor is typically a light meal, so try to avoid eating heavy foods that will weigh you down throughout the day. You want to eat something that is going to keep you satiated but not make you feel bloated or sluggish. Like my overnight oats recipe that I mentioned above. You may also want to consider drinking a balanced shake or smoothie to help keep you energized throughout the day.

What happens if you eat food or drink water during Ramadan?

Ramadan is all about intentions, and it's a personal commitment you make to yourself. If you eat or drink by mistake, you can resume with your fast as intended. If you are tired and can no longer continue the fast, it's best to put your health first and break the fast before sunset with some food and water and try again tomorrow.